Popsicles are the ones that prove something as small as a small stick can bring you so much happiness. From children to adults, popsicles are an emotion. And to add an extra piece of love to these, Licksters ice cream comes up with 100% real fruit taste popsicles. A whole world of premium popsicles is waiting for you here. These popsicles are truly natural products that are made without harmful preservatives. It is only about the real fruit flavours. You can enjoy eating fruit from ice cream with these popsicles. These natural ones can make you fall in love with them seamlessly.
Founder, Business Idea, and Funding Details of Licksters
| Company | Details |
| --- | --- |
| Business Name | Licksters |
| Founders | Parimal Kalikar & Dhivya Subbraju |
| Business Idea | Ice Cream |
| Funding Details | 25 lakhs for 5% Equity | 25 lakhs Debt |
When Parimal Kalikar & Dhivya Subbraju went to have a popsicle, it did not go as planned. None of the ice creams that they ate was fully natural. From local brands to premium brands, everything lacked the flavour of the fruit in it. Having the perfect knowledge of how a fruit is, they wanted to bring the same flavour to the popsicles. It was not only for them but for all the people of the country. This made them come up with the brand, Licksters. And the founders took the idea to the reality show, Shark Tank, and got funding of 25 lakhs for 5% equity and 25 lakhs debt. With these, their future plans can be done easily. You can also check Amazon coupon code for more details.
Licksters Products
Licksters has a wide range of products with various tastes that can melt your heart. The Licksters products are a true emotion. The feel of licking out your favourite fruit is quite unmatchable. The brand has carefully made these to make people feel great while chewing on the popsicles from the brand. From fruit pops, and ice cream pops to greek yoghurt pops, you can get your hands on everything you want with the best taste in the town. These are pure and natural like no other ice cream in the country.
Fruit Pops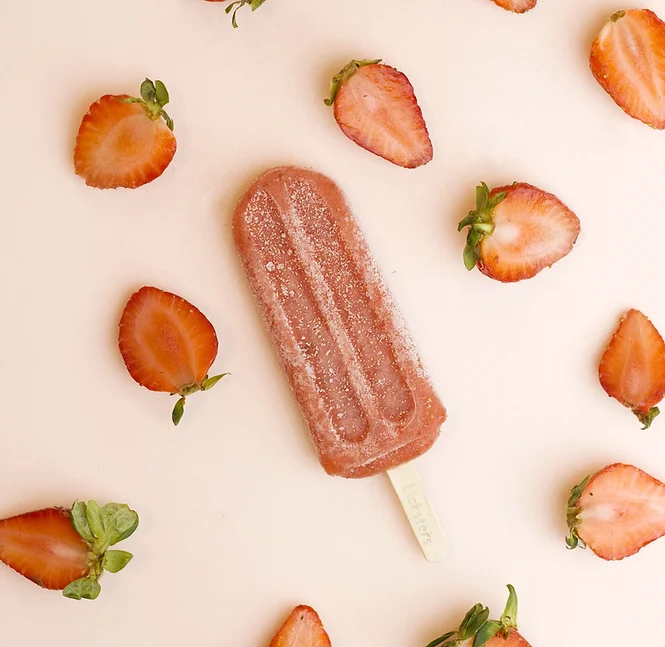 Fruit Pops
The fruit pops from Licksters bring you the authentic taste of fruits in the popsicle. This one has 80% more fruit in it than any other brand. This is what makes this brand stand out from the others. It is real and natural to the core without any harmful chemicals, making it the best fruit pop in the country.
Ice Cream Pops
Ice Cream Pops
The ice cream pops are some of the most loved items from Licksters. These are made with various flavours that come with various add-ons. This one can make you fall in love easily. The ice cream melts perfectly and falls on your tongue, leaving you on cloud nine.
Gooey Centred Pops
Gooey Centred Pops
This is a special type of popsicle that comes with centres that don't freeze out. The best thing is that these are soft and not frozen at the same time. It gives a great taste to the whole popsicle. You will definitely love this different flavour that these popsicles give you.
Pop-it Shakes
Pop-it Shakes
Licksters are always keen on producing quality products with thick fruit essence. This makes the products thrive in taste. Coming up with the best popsicles with more fruit, they also came up with pop-it shakes that come with more fruits and are more natural. It also comes with a popsicle.
Hot Cocoa
Hot Cocoa
If you have been looking for real hot cocoa, then you have come to the right place. The hot cocoa you get from Licksters is one of the best in the country. This real premium cocoa comes without a pinch of artificial thickeners.
Waffle Pops ( Winter Special)
Waffle Pops ( Winter Special)
Ever got to try waffles on a stick? Well, you can try them now at Licksters. They come with small waffle pops that can melt your heart. These crispy chocolate waffles on a stick are a great innovation. It is a recent addition to the collection of popsicles from Licksters.
Ice Cream Sundaes
Ice Cream Sundaes
The ice cream sundaes that you get here can give the best dessert experience you've had in a long time. These are premium icecreams that melt the second you put them in your mouth. And you can add your choice of toppings to these from fruits to anything you want.
Premium Ice Creams
Premium Ice Creams
The premium ice creams from Licksters are a true delight to the taste buds. You will always remember the taste of this one once you get to taste it. These are made from real fruit and real milk, making them more natural than ever. Come fall in love with the best one in the town.
Where to Buy?
Licksters ice cream has gained great popularity among people overnight. Their appearance on Shark Tank is the reason for this. The number of customers grew rapidly and is making a great demand for the popsicles from the brand. The founders have also decided to come up with a Shark Tank combo. And you can get your hands on all these amazing popsicles from the official site of Licksters. The brand is also keen on opening multiple stores all over the country. They are open to franchises.
Licksters – Check Now
Telecast Details on Shark Tank
Shark Tank has always been aspiring young ones all over the country. The great ideas of young entrepreneurs come to life on this show. People come on this show, pitch their ideas, and get amazing funding from the investors in the show. This way they gain popularity and funding overnight. But the hard work that these people put in to reach the show is always unspoken. In a similar way, the founders of Licksters, went on the show to demonstrate the product. The idea of pure and natural popsicles secured them great funding from investors.
You can watch the full episode – See Here
Licksters Social Media Details
Starting from 6 flavours, Licksters are producing 30 flavours of ice cream popsicles. The brand evolved through time. The different flavours and the various tastes that the brand comes up with are truly incredible. The best thing about Licksters is that all these popsicles have an authentic taste of the fruits used in them. You just feel like chewing a fruit off a stick. That is the quality of these popsicles from Licksters. They are also looking forward to making new flavours to make their customers happy. And you can easily keep on track of their ventures on their social media pages.
Conclusion
Licksters ice cream comes with more fruit concentration than any other ice creams. This is what makes the brand stand out from the others. Have a fruit any time you want in your favourite way with these popsicles. The licking never stops with anything you buy from Licksters. One of the interesting things about the brand is that they are open to franchises, making the popsicles available to people all over the country. Jump into the various flavours of popsicles from Licksters to never stop licking.